Fenris Publishing, LLC
Publishing and distributing books, comics, art, and games since 2017
We are a book, comic, art, and game publisher and distributor with a focus on the anthropomorphic (furry), fantasy, sci-fi, and supernatural genres. We also carry a variety of tabletop RPG accessories. You can browse the full selection on our Product page.
If you're an author, artist, or game designer with something you'd like us to consider publishing, visit our Submissions page. If you're a creator or a business with an existing physical or digital product you've already published and would like us to help you distribute, or if you have a crowdfunding project you'd like us to help you fulfill, visit our Services page.
Stay up to date with our monthly newsletter (no spam).
---
News
September 7, 2022
Toivo Kaartinen, creator of Foxes in Love, will be Guest of Honor at Arizona Fur Con! This event will take place in Mesa, Arizona from October 14-16, 2022. Learn more at the Arizona Fur Con website.
Be sure to follow us on Twitter at @FenrisPublish (General) and @BewereBooks (Adult) for the latest news, updates, and discounts.
Upcoming Events
Mar 10 - Mar 12, 2023 - Fur the More - Arlington, VA
Mar 16 - Mar 19, 2023 - Texas Furry Fiesta - Dallas, TX
Mar 24 - Mar 26, 2023 - Motor City Fur Con - Novi, MI
Apr 7 - Apr 9, 2023 - Golden State Fur Con - Los Angeles, CA
Apr 7 - Apr 9, 2023 - Fur Squared - Milwaukee, WI
Apr 14 - Apr 17, 2023 - Las Vegas Fur Con - Las Vegas, NV
Imprints

Fenris Publishing
Fenris Publishing is focused on general and mature content for mainstream audiences. We may publish some special-interest works under this imprint if we feel they may have wider mainstream appeal.

Bewere Books
Bewere Books is focused on general, mature, and adult content geared towards more niche audiences, such as the furry (anthropomorphic) communtiy and other special-interest communities.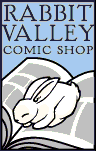 Rabbit Valley Comics
We are proud to carry on Rabbit Valley's legacy of anthropomorphic publishing as one of our imprints!